Pleasure,
We are the Green Innovation
We are a leading Brazilian company in research and development for personal mobility. Our main vocation is focused on the management of technological innovation focused on personal mobility products. For this, we have a multidisciplinary team qualified.
GREEN INNOVATION
We are a leading Brazilian company in research & development for personal mobility. Our main vocation is focused on the management of technological innovation focused on personal mobility products. For this, we have a qualified multidisciplinary team.
DIVINITÀ
Divinità has become a reference and object of desire all over the world, thanks to all its exclusive requirements. This also provided the Chair Diva, participation in Global Novelas, clips and videos with thousands of views on various social networks.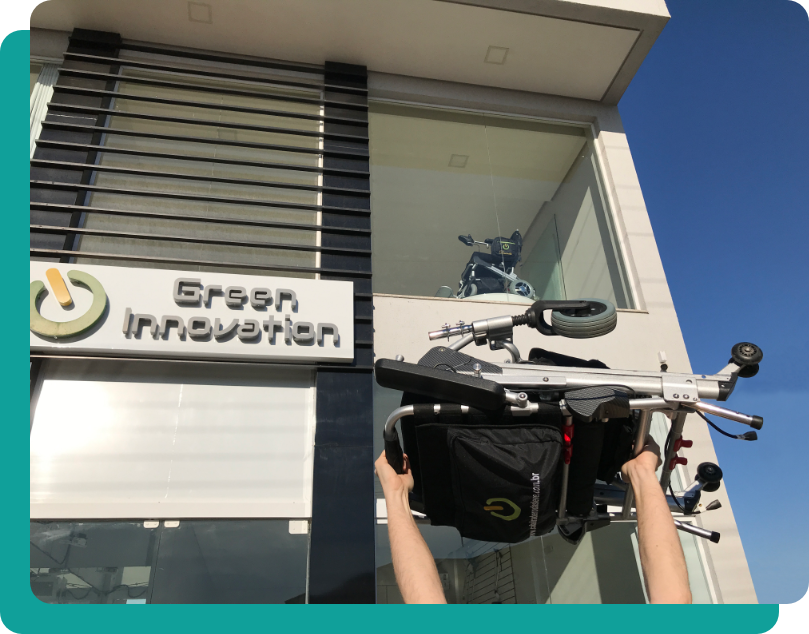 How we like to do our business:
We at Green Innovation consider that the realization of our interests is based on strict compliance with the highest standards of ethical conduct. Therefore, our daily concerns with efficiency or economic growth cannot be dissociated from ethical and responsible conduct. As such, we assume a conscious behavior in all the relationships we build and these values ​​have a positive impact on our daily work and on our future promises, as well as on our customers, suppliers, product and environment. If you share these principles, please contact us.
MISSION
Offer the best business opportunities, make dreams come true and contribute to people's self-esteem through innovative products and services. Always in a sustainable, positive and responsible way.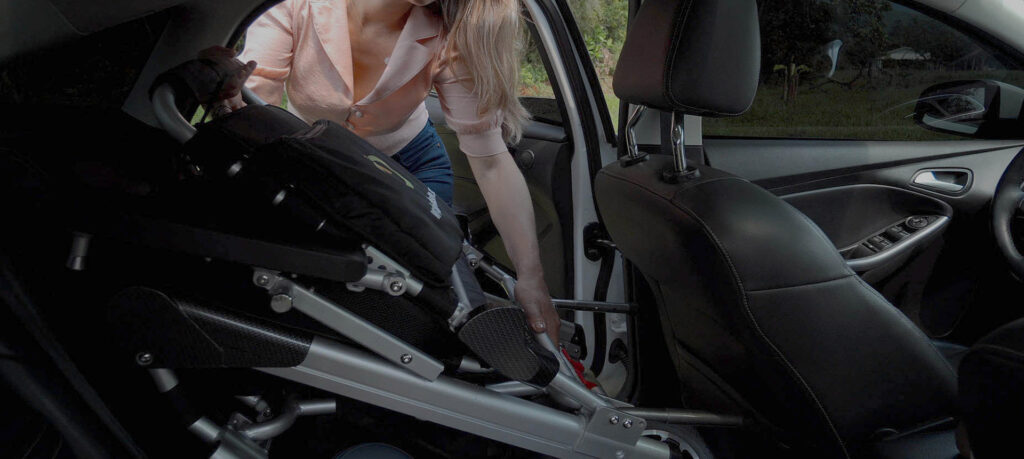 Consultancy
Count on the experience of our expert consultants, making an assertive choice.

Technique
We have a multidisciplinary team developing innovation in personal mobility.
Experience
Count on the service of people with experience and ability to meet their needs.
Customization
Divinità is a wheelchair modulated through optional with adjustments to different measures and needs.

Maintenance
Divinità has very low maintenance, has technical assistance throughout Brazil.
Divinità offers you the best cost-benefit ratio on the market due to its durability, low maintenance, lighter weight, easy handling, longer warranty and better after-sales service (the only wheelchair in Brazil with 100% of the parts available for purchase online from any point from Brazil).
Now getting a ride with a friend, Uber or regular Taxi is easy. Traveling by car and having to choose between taking a wheelchair or luggage is now a thing of the past. The same ease also in plane travel. Imagine doing everything you've ever wanted. That means freedom! Make your life easier and who is with you!
For purchases made from 03/31/2020, the Divinità wheelchair warranty is: 10 years on the welds on its aluminum parts, 5 years on maintenance-free motors, 2 years on the battery and all electronics and 3 months on the other parts. And outside the warranty period we have a large stock of parts and components for purchase.
In the points of fatigue and friction of the Divinità wheelchair we use specially designed aluminum profiles, extruded for it (whole resistant parts) and not just pieces of tubes and common profiles, as in the traditional motorized wheelchairs on the market.
Does Divinitá adapt to each particular user?
Fortunately yes. In most cases you will not have to adapt to Divinità. On the contrary, Divinità will have to adjust to the user's characteristics. Clearly taking into account the limits and conditions of use for which it was designed.
Each Divinità has different measurements and dimensions (mostly adjustable) with the aim of providing the greatest comfort and maximum safety for the user. Your physiotherapist or OT professional will even be able to prescribe your measurements and needs and they will be configured especially for you. Divinità comes in 3 sizes plus standard adjustments. We remind you that orders outside these pre-established measures will be analyzed by the responsible sector to make the customizations available or discard, and these will be considered optional items and services (charged separately).
Does Divinitá accompany me everywhere?
We have records of several clients in different parts of the planet, some of these records are available on our social networks, and in some testimonials right here on this page. This is due to the versatility and practicality of this Wheelchair, which was developed precisely to give freedom to its users, as it is narrow, light, foldable, excellent autonomy and resistant, making it much easier to move inside and outside the house. If you usually drive to visit friends and family or use public transport to get around, Divinità is a great option.
What is the autonomy of Divinitá?
Range of up to 18 km (depending on model and options).
The vast majority of our customers do not need to purchase an additional battery. However, you can purchase a double cable to use two combined batteries, this will double the autonomy. For combined batteries they must have the same brand, model and capacity of 12V, 10Ah. The maximum distance to be traveled is influenced up and down according to driving, surface and weather conditions.
Why is Divinitá the best choice?
Those who purchase a Divinità, in addition to all the benefits and advantages already mentioned, also have the best after-sales service. As a practical example, we inform you that we have users using them for more than 5 years without having any problems. In the vast majority of cases, batteries are not even replaced, which normally last an average of only 1 year in other brands. Divinità is used in rural areas, on land, in the city, on asphalt pavements, it coexists daily with the sea air, as well as indoor environments, homes, shopping malls, offices and classrooms.
We designed and developed the Divinità with a modern and cheerful vision, with the ultimate goal of an ecologically correct personal vehicle that can be used by anyone and everyone, whether they are disabled or not.
Divinitá is the only one that has all these characteristics:
TECHNOLOGY: ULTRA LIGHT AND BETTER PERFORMANCE.
It opens and closes quickly in a super light and extremely well designed frame that supports up to 150 kg!
Our Divinità wheelchairs weigh between 25 and 31.7 Kg depending on the model, configuration and options, about half the weight of our competitors.
At this point, we want to share some important information with you. According to laboratory tests carried out with dolls weighing 150 kg. Motorized wheelchairs manufactured with whatever metal alloy, weighing less than 25Kg, have less material than is really necessary to be a safe motorized wheelchair for the reality of Brazilian streets and sidewalks. Motorized wheelchairs, for example, with only 24Kg will certainly have their structure damaged or broken in a few months of use. That's why our Divinità wheelchairs weigh from 25 Kg (specially designed profiles and quality welding) and not 24 Kg or less (motorized wheelchair with low structural quality).

The 4 tires have an anti-puncture system, avoiding the need for maintenance and calibration. There are 3 options for wheels, 08″, 10″ and 12″ and 3 options for sizes S, M and L, totaling 9 possible configurations, in addition to a series of postural adjustments. No other motorized wheelchair of this type has these possibilities with refining personal fits These options make it easy to match the doctor's prescription to your personal measurements and needs. You can also, for example, purchase as options, the headrest and foot support with adjustments for better accommodation of the feet. We are not just technology developers, we have experienced the reality of people with disabilities for decades and we translate this experience into the products and services we provide. Our small and ecological battery weighs about ¼ of the competitors with autonomy of up to 18 km with only 10Ah (2.6Kg). It is a battery produced with Brazilian lithium and its cells are certified. It is the pioneer in the use of the Lifepo4 formulation. Therefore, it is extremely reliable. The quality and technology of the engines combined with the ease of being a powerful and compact wheelchair make it perfect for use in different environments (home, shopping, sidewalks, regular asphalt and grass) with 8″ wheels and (home, shopping, sidewalks, paving, dirt road, grass, gravel and other obstacles up to 3 cm) with 10″ and/or 12″ wheels. wagon and station. Because it is produced following European standards, it easily and safely goes up and down angles of up to 8 degrees.

It has 5 easily accessible power levels along with an easy-to-drive joystick. In addition to the factory configuration, there is the possibility of customizing acceleration, deceleration and braking as an optional configuration service.
The brakes are regenerative electromagnetic, that is, with each braking the battery receives a small recharge, so even though it is a low amperage battery, it has a greater autonomy than other motorized wheelchairs. The motors do not require maintenance related to brush replacement, as they do not have this component, they are low noise as they do not have geared motors and, therefore, are more efficient than the traditional motors of competitors, with a durability of up to 10 times greater. State-of-the-art technology with higher performance.
Thinking about making life easier for you and your family, it is the only one with an exclusive open and close system that allows quick assembly and disassembly, in seconds, without having to remove the battery or disassemble any other part of your Divinità motorized wheelchair.
It is equipped with 7.5″ diameter front wheels, 08″, 10″ or 12″ rear wheels and 2″ safety wheels. It is the only one of its kind with a backrest that reclines in 5 positions, for maximum comfort and postural relaxation in your daily journeys.
You will be able to transport it in the vast majority of non-adapted vehicles on the market (Your Taxi/Uber car) without having to remove the battery or dismantle parts of the chair. In addition to opening and closing it quickly (a few seconds). Airplane travel is also possible as it has a dry battery with the CE seal, 10 ah. According to the policy and rules of each airline.